Meet Britain's Biggest Perv!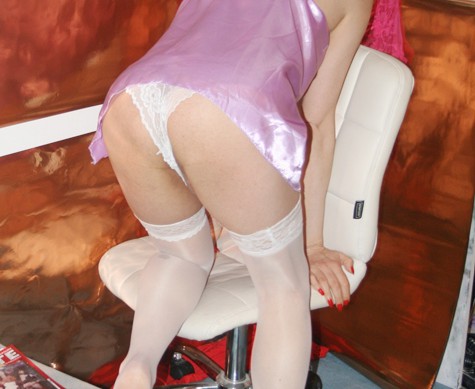 I am a 49-year-old divorcee from Ipswich who is completely and utterly obsessed with sex and kinkiness. After my wife left me due to my pathetically low sex drive and inability to maintain an erection in bed, I embarked on a voyage of sexual discovery that has seen me embrace numerous perversions. Now pretty much everything turns me on, although I only get hard thanks to non-prescription supplements like Max Strength Golden Root and Spanish Fly. I also enjoy the scent of room aromas like Liquid Gold and have a very sensitive anal tract that loves the feel of a rubber dildo.
On top of that, I have also recently began to experiment with wearing women's clothing – mostly just lingerie and stockings – and have been exploring my bi side by hooking up with male strangers in public toilets and adult cinemas. I still consider myself to be straight, but I enjoy sucking cock and being fucked up the arse. And my brand new motto is 'Anything Goes' – just as long as it's legal, I will give it a try!
My favourite kinks include:-
Cross-dressing – I wouldn't call myself a proper transvestite and I'm certainly not a transsexual, but I do get hard wearing corsets, stockings, knickers, thongs and sometimes a dress. Cross-dressing also brings out my bi-curious side!
Anal Play – Who knew just how horny and hard I could get by jamming a 10-inch dildo hard up my arse! I always thought my dick was my main erogenous zone, but it ain't nothing compared to my prostate gland!
Toilet Meets – I still wouldn't think of myself as gay, but there's something exciting about hooking up with a total stranger and sucking him off in a toilet cubicle. And going to a toilet in girlie lingerie really adds to the thrill.
Knicker Sniffing – At least once a week I purchase a pair of dirty knickers from a lady with a very sticky cunt. I just love the smell of pussy juice and am open to the smell of a woman's piss and shit. And I won't just sniff them – I'll wear them, too!
Massage Parlours – Turning up at a discreet doorway in some quiet little town in England and then getting a massage (and more!) from a horny MILF always does it for me! And if she's open to poppers and massaging my cock through a pair of knickers, then so much the better!
Hard-on Pills – All my sexual exploits would be absolutely nothing without a pill to get me hard and stay erect. I use a mix of room aromas, poppers and delay sprays to heighten the intensity of all my antics.
You can follow me on Twitter @SissyMikeScott1.